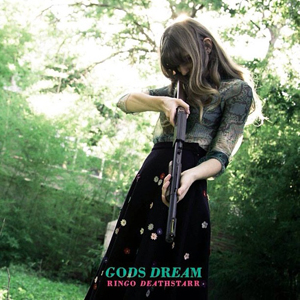 We kick off this week with a track from the new Ringo Deathstarr album "Gods Dream" which has just been released in Japan by Vinyl Junkie. Apparently European and U.S. releases will follow soon although I don't see why everyone can't just order the Japanese version. Works for me.
2. Greg Beato - Who's The Licho In Charge Ovaa Here (Apron)
One of five tracks on Greg Beato's latest E.P. which is available now on Apron Records.
Song, By Toad are celebrating the fifth anniversary of their fine label by releasing a five album boxed set limited to just fifty five copies. It includes album by Meursault, Animal Magic Tricks, Virgin Of The Birds, The Leg and a compilation entitled "The Toad Sessions" which is pretty much exactly what it says. Get more info
here
.
4. Nothing - Dig (Relapse)
Taken from the fantastic album "Guilty Of Everything" which is available now through Relapse Records who's releases traditionally sound a bit angrier than this. As you can see in the above picture there is a very interesting limited vinyl version which is pretty much black and white halves. You can imagine how nice that is going to look spinning on your turntable. According to the Relapse website there are only to be five hundred of these delicious items and they are only to be available from the
Relapse website
. You'd better get a move on before I buy them all to decorate my kitchen with.
5. Illegal Wiretaps - Fight (

Self Released

)
Another week, another new release from Illegal Wiretaps who release records more frequently than York City score goals! This one contains two new tracks and is as usual available free from their
Bandcamp page
where you can find all of their releases and I suggest you do. I really look forward to new Illegal Wiretaps releases because you really never know what your going to get.
6. VibraGun - Dirty Thing (

Self Released

)
This is the eight and indeed final track on the new self titled album from VibraGun. You can furnish yourself with a copy by getting yourself over to their
Bandcamp
page. It does cost seven American dollars but it is worth every penny... or cent... or whatever.
7. Thomas Mapfumo and Blacks Unlimited - Hwahwa (Chimurenga Music)
Taken from the 1981 LP "Gwindingwi Rine Shumba" which a certain Scottish gentleman called Mr Sheridan was kind enough to send me. Great stuff and I'll probably include a few more tracks in these pages in the future.
8. Odonis Odonis - New Obsession (Self Released)
This is the first taste of the new Odonis Odonis album "Hard Boiled, Soft Boiled" which will be released on 15th April.
9. Dead Leaf Echo - True.Deep.Sleeper (

Moon Sounds

)
This is the title track from the new Dead Leaf Echo E.P. which will be released on 25th February through Moon Sounds.
There is a very nice, and limited 10" vinyl version which can be pre-ordered
here
.
...and if that's not enough to send you into a frenzy of excitement the band will soon be embarking on their Winter tour which kicks off in Brooklyn, New York on EP release day. There's no sign of any UK dates at the moment but I live in the hope that they might see fit to conquer the UK before the end of the year.
true.deep.sleeper 2014 Winter Tour Dates
2.25 Brooklyn NY. Union Pool (EP Release Party)
2.28 Montreal CA. TBD
3.1 Toronto CA Smiling Buddha
3.2 Hamilton CA Casbah
3.3 Detroit MI. New Way Bar
3.4 Ft. Wayne IN. The Brass Rail
3.5 Cincinnati OH. MOTR
3.6 Milwaukee WI. Riverwest Public House Cooperative
3.7 Minneapolis MN. Triple Rock Social Club
3.8 Chicago IL. The Empty Bottle
3.9 St. Louis MO The Firebird
3.10 Lawrence KS. Eighth St. Taproom
3.11. Ft. Worth TX. Lola's Saloon
3.12. Dallas TX. The Crown and Harp
3.13. Houston TX. Fitzgerald's
3.13. SXSW
3.14. SXSW
3.15. SXSW (Official Showcase Night)
3.16. Mobile Al. The Blind Mule Restaurant & Bar
3.17. Atlanta GA. TBD
3.18. Asheville NC. The Mothlight
4.19. New York NY. PIANOS Opening for David J (Bauhaus, Love & Rockets)
Just one track from one of the five wonderful seven inch singles which make up volume two of the Odd Box 100 Club package. If you see fit to part with £25.00 you will be rewarded with seven inch singles from the likes of Sock Puppets, Bloomer, Dog Legs, City Yelps and King Of Cats.
More details can be found here
.
11. Appletop - New Again (

Armellodie

)
Taken from the album "Brave Mountains" which will be the first release of 2014 for Armellodie Records when it is unleashed on 10th March.
12. Teenage Daydreams - Dead Best Friends (Self Released)
Taken from the album "False Hope Syndrome" which can be downloaded free from the

Teengage Daydreams Bandcamp page

.