Download Here
1. Dogs In Ecstasy - The Ballad Of Jinkx Monsoon (

Self Released

)
Taken from the Excellent "Dat Cruel God" EP which you can buy as a digital download from their
Bandcamp page
or cassette (which is accompanied by download) from
Organalog Records
.
2. Torpa - Collision (

Self Released

)
This is the latest digital release from Torpa and once again hits the high standards we have come to expect. This is the eighteenth Torpa release and you haven't heard the previous seventeen then you need to pop along to
Torpa's Bandcamp page
where you will be able to put things to rights. This single is possibly the most beautiful thing I've heard this week.
3. Miniatures - Anybody Silent (

Self Released

)
Lovely new track from the Melbourne band. With a bit of luck a full LP might not be too far away?
"Annemarie Duff - Vocals/Programming
Ché Walden - Guitars/Bass/Programming

Produced by Miniatures
Mastered by Steven John Marr
Recorded throughout 2013 in Ché's bedroom"
4. Run Dust - Glint Corp. (

Tesla Tapes

)
Another winner from Tesla Tapes, this time it's a six track cassette release by Run Dust. The info below mentions a Run Dust live show but I don't think I have the imagination to even begin to imagine what that must sound like. Pretty damn kickin' would be my guess.
"Oh yesssssss, Run Dust aka Ronald Dossier is back with an absolute killer half hour on his second release for Tesla. There's less vocals on Trank Gun but it feels twice as urgent and kicks like a cast iron mule to your face .When he first sent these tracks to Gnod HQ , i thought i was listening to a long lost Regis Peel session that was just too fucking HARD to air. This is a real good showcase for what a Run Dust live show is like too, its thick with confrontation and daring you to get closer whilst grinding you down with what sounds like a hyperactive genius pushing his machines to the point of combustion. Just stick this stuff on first thing in the morning and see for yourself, words can do no justice....
50 Cassettes."


Taken from the LP "Peoples Songs" which was released this week on Latest Flame.
6. Four Visions - Hazy Past (Self Released)
"Hazy Past" is a small release and pairing of two new songs which will be included in a future full length record I've been working on in recent months. For this batch of tracks I'll be hand-dubbing and self-releasing a limited number of cassettes (30 in total) which will be available for purchase online soon.
"
7. Drop Electric - Higgs Boson (

Lefse

)
Taken from the LP "Waking Up To The Fire" which was released on Lefse Records last week.
8. Younghusband - Comets Crossed (

Sonic Cathedral

)
I must admit the first time I played this LP I was fearing the worst during the first track which I found a bit boring, but then track two started which is this one and the whole mood changed and never really looked back. "Dromes" is the debut LP by Londn band Younghusband and was released last month on Sonic Cathedral.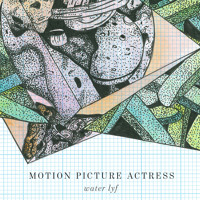 9. Motion Picture Actress - Scream (

Silo Arts

)
Taken from the seven track mini LP "See Water" which was released digitally this week through Silo Arts.
10. Los Campesinos - Cemetery Gaits (Wichita/Turnstyle)
This is a track from the new Los Campesinos LP "No Blues" which was released just last week and represents a bit of a return to form after their last LP "Hello Sadness" which I found a bit disappointing.
11. Miss Halliwell - Rulerfueller (Self Released)
This is the new single from Miss Halliwell. I probably had loads of important information to give you but sadly the e-mail which might have contained that appears to have vanished so all I can say is... enjoy.
12. Helicon - Kolorskope (

Psyilocybin Sounds

)
"
Psyilocybin Sounds are pleased to announce the release of the double A side Mind Explosion 12" vinyl EP featuring the dark wave sounds of Glasgow's own Helicon and the trippy layered psych of Barcelona's Celestial Bums.
"
This 4-track vinyl only EP can be purchased exclusively here:
www.psyilocybinsounds.co.uk/shop.html