1. Loomer - Mammoth Butterfly (

Midsummer Madness

)
This is, as far as I can tell the debut release from Brazilian band Loomer. The first thing you'll notice is the fantastic sleeve. More importantly though it sounds pretty terrific as well. It's part of a digital release which contains two tracks, the other being a number called Dark Star which is also well worth a listen. You can download the whole release
here
.
2. Roly Porter - Gravity (

Subtext

)
Taken from the LP "Life Cycle Of A Massive Star" which is released this month on Subtext Recordings.
3. Too Much Texas - Hurry On Down (Ugly Man)
This is the a-side of the only record Too Much Texas released. It was issued as a 12" single on Ugly Man records back in 1988 and features Tom Hingley on vocals who was soon to have a little bit more success with Inspiral Carpets. Many people have never heard this record which I think is a bit of a shame.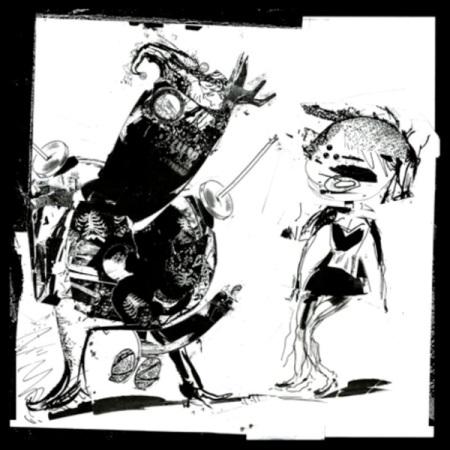 4. Pixies - What Goes Boom (Self Released)
Well as far as I'm concerned the return of Pixies has been a slightly surprising success. I fully expected them to sound great live as you can discover elsewhere on this site but I wasn't expecting the new EP to pull up any trees. In the event not only does it pull them up but it also chops them into logs and sets fire them. The creativity titled "EP 1" was released last month to a crescendo of mixed reviews but I suspect most of them were expecting some kind of throwback to "Doolittle", although that said a couple of tracks on here could sit comfortably on that record. This would be one of them.
5. José Oyola and The Astronauts - Inside Out (

Obscure Me

)
One of two tracks on a new 7" single from the ever reliable Obscure Me label.
6. L.B. Dub Corp - I Have A Dream [feat. Benjamin Zephaniah] (Ostgut Ton)
This slice of wonderment is taken from the new 12" by Luke Slater's L.B. Dub Corp. It's called "Turners House" and is available now on Ostgut Tom.
7. Brief Candles - Dawn Bomb Parties (

Self Released

)
One of the most played records in my house at the moment is the new release from Brief Candles. It's called the "Newhouse EP" and is available in a selection of formats including 12" vinyl from their
Bandcamp page
. Recommended!
8. Pet Friends - Money (

Self Released

)
Taken from the London Bands new EP "Contact " which you can download for a price of your choosing from their
Bandcamp page
.
9. Like Like The The The Death - Cry Tag (

Latest Flame

)
This is a superb record. Like Like The The The Death have been around for ages but this is the first record of theirs I've been privileged enough to hear in full. It's an LP called "Cave Jenny" and can be ordered from the
Latest Flame website
where you will find yourself presented with a choice of red or black vinyl. Both will sound fantastic but one will look redder than the other. You'll certainly be hearing more from this lot around here.
10. Veronica Falls - Nobody There (

Self Released

)
New single from the mighty Veronica Falls. There last LP "Waiting For Something To Happen" is up with my favourite records from the last couple of years and I have a suspicion that the next LP will be at least as good. I grow damp in anticipation.
24th October - Brighton, Green Door Store (with Bleached)
30th October - Sydney, GoodGod Small Club
31st October - Melbourne, Northcote Social Club
2nd November - Singapore, Camp Symmetry Festival
6th November - Bankok, Voice Space
7th November - Tokyo, Freeman's Sporting Club
8th November - Tokyo, Cay
9th November - Tokyo, Est
10th November - Osaka, Noon
12th November - Hong Kong, Backstage
11. The Savage Nomads - Jaded Edges (

Self Released

)
New track from the London band.
12. The Wave Pictures - Whiskey Bay (

Moshi Moshi

)
This fine track comes from the new Wave Pictures double LP "City Forgiveness" which includes no less than twenty tracks spread over two LP's or CD's depending on your preference. You should bear in mind though that the vinyl is white and therefore beyond lovely. These songs were apparently written last year as they spent six weeks driving around America in a small van with Allo Darlin'.
The Wave Pictures have a frightening amount of tour dates coming up...
Fri 25th - Chemnitz (GER) @ Lokomov
Sat 26th - Vienna (AUS) @ Chelsea TICKETS
Mon 28th - Munich (GER) @ Strom TICKETS
Tue 29th - Nuremburg (GER) @ K4
Wed 30th - Zurich (GER) @ Helsinki TICKETS
Thu 31st - London (UK) @ Servant Jazz Quaters "Moshi Moshi 15th Birthday Party" TICKETS
Fri 1st - Bern (SWI) @ Cafe Kairo
Sat 2nd - Freiburg (GER) @ White Rabbit
Sun 3rd - Bärenbach (GER) @ Shortys'
Mon 4th - Colmar (FRA) @ Libellule Cafe
Tue 5th - Esslingen (GER) @ Komma
Wed 6th - Offenbach (GER) @ Hafen 2 TICKETS
Thu 7th - Wetzlar (GER) @ Franzis TICKETS
Fri 8th - Cologne (GER) @ Die hängenden Gärten von Ehrenfeld (Early show, 19.00hrs)
Sat 9th - Brussels (BEL) @ Le Chaff
Wed 13th - London (UK) @ Camden Jazz Cafe TICKETS
Wed 20th - Lille (FRA) @ La Peniche
Thu 21st - Evreux (FRA) @ l'Abordage TICKETS
Fri 22nd - Nantes (FRA) @ Stereolux
Sat 23rd - Bordeaux (FRA) @ I Boat
Tue 26th - Salamanca (SPA) @ Potemkin
Wed 27th - Madrid (SPA) @ Siroco
Thu 28th - Sevilla (SPA) @ Malander 2.0
Fri 29th - Málaga (SPA) @ París 15
Sat 30th - Granada (SPA) @ Planta Baja
Sun 1st - Valencia (SPA) @ Wah Wah
Mon 2nd - Tarragona (SPA) @ El Cau
Tue 3rd - Barcelona (SPA) @ Sidecar
Wed 4th - Zaragoza (SPA) @ La Lata de Bombillas
Thu 5th - Vitoria (SPA) @ Jimmy Jazz
Fri 6th - La Coruna (SPA) @ La Club
Sat 7th - Valladolid (SPA) @ Porta Caeli
Mon 9th - Dijon (FRA) @ Flannery's
Tue 10th - Paris (FRA) @ Wintercamp Festival TICKETS