Another winner from the Sacred Bones label. This is Pop. 1280's second lp for the label and I must confess to not having as copy of the first which is a fact that will undoubtedly haunt me day and night until the situation is resolved. This record is called "Imps Of Perversion" and really is a bit of a sonic beauty.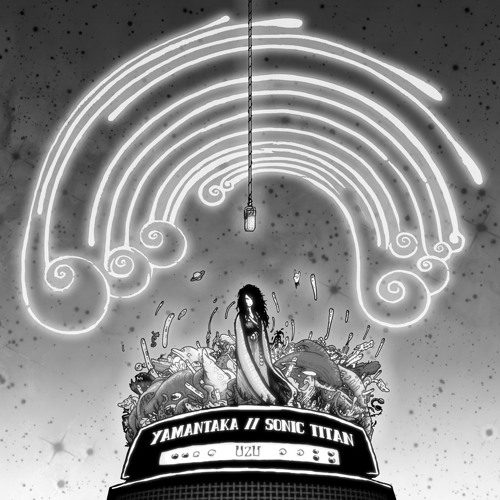 2. Yamantaka //Sonic Titan - One (

Suicide Squeeze

/

Paper Bag

)
This is the first taste of what the new Yamantaka//Sonic Titan album will sound like when it's released on 29th October. It's called "UZU" and is the follow-up to their impressive debut "YT//ST".
3. Berserker Children Club - I Don't Know (

Self Released

)
One of two tracks on the new digital single from Japan's Berserker Children Club which can be downloaded in full
here
.
Not to take away from the "proper" new Minks record "Tides End" which was featured on here a few weeks ago. "X-Rated Poetry" is a collection of b-sides and demos all of which are well worth hearing if you have never heard them before.
5. The Swapsies - Another Game On Saturday (

February

)
Very apt this one what with the football season just underway and high hopes soon to be dashed for most teams. Hopefully York City will do better than last year but then they could hardly do much worse. This track is one of two on a free digital single which you can download from the
February Records website
.
6. Young Galaxy - In Fire [Sally Shapiro Remix] (

Paper Bag

)
This is the very fine Sally Shapiro remix of the new Young Galaxy single "In Fire" which is taken from the Montreal bands fourth lp "Ultramarine".
7. Galaxie 500 - Snowstorm (Rough Trade)
I think this is one of the best LP's ever issued by Rough Trade Records, and they certainly have a mighty back catalogue. The LP in question was (and still is) the second LP by New York band Galaxie 500. They had released their debut LP "Today" a year earlier on Aurora Records but then in 1989 delivered their masterpiece "On Fire" from which this track is taken. A year later they would release their third album "This Is Our Music" which is also a bit of a belter, before calling it a day in 1991.
8. The Dodos - Confidence (Polyvinyl)
Taken from the album "Carrier" which will be released on Polyvinyl on 27th August.
9. Teen Daze - Ice On The Windowsill (

Lefse

)
Teen Daze are back with a new record. It's an eight track LP called "Glacier" which will be released on 1st October by Lefse Records. Teen Daze also seem to have quite a lot of tour dates coming up on which they will be supported by Camp Counselors who's music I must confess I'm not familiar with.
09/26 – Seattle, WA @ Decibel Festival
10/02 – Calgary, AB @ The Gateway
10/04 – Edmonton – AB @ The Wunderbar
10/05 – Woodberry, TN @ Music In The Middle Festival [DJ Set]
10/06 – Saskatoon, BC @ Amigo's Cantina
10/08 – Winnipeg, MB @ Union Sound Hall
10/09 – Fargo, ND @ The Aquarium
10/11 – Madison, WI @ The Frequency
10/12 – Chicago, IL @ Beauty Bar
10/15 – Kingston, ON @ Clark Hall Pub
10/16 – London, ON @ The APK
10/17 – Toronto, ON @ Parts & Labour
10/18 – Ottawa, ON @ Mercury Lounge
10/19 – Montreal, QC @ Le Divian Orange
10/20 – Burlington, VT @ Signal Kitchen
10/23 – Philadelphia, PA @ Boot & Saddle
10/25 – Baltimore, MD @ Gold West Cafe
10/26 – New York, NY @ Glasslands
10/28 – Cleveland, OH @ Beachland Tavern
10/29 – St. Louis, MO @ The Demo
10/30 – Lawrence, KS @ The Bottleneck
10/31 – Denver, CO @ Larimer Lounge
11/03 – Phoenix, AZ @ Last Exit Live
11/04 – San Diego, CA @ Soda Bar
11/05 – Los Angeles, CA @ Echo
11/06 – San Francisco, CA @ Brick & Mortar Music Hall
11/07 – Portland, OR @ Holocene
11/09 – Vancouver, BC @ Electric Owl
10. Pale Saints - Throwing Back The Apple (4AD)
No particular reason for including this other than I was listening to it earlier today and it still tickles my fancy. Released back in 1992 just before the Leeds band released their second album "In Ribbons" which if you haven't heard it is well worth tracking down.
11. Unstrung - Pace (Humor/Girth Control)
I probably have included a track from this EP a few weeks ago but the truth of the matter is that I forgot but a record with a title like "Sucking Fun In The Fucking Sun" always has a good chance of getting featured on this site. The EP will be issued as a limited 7" in September and is well worth tracking down. In the meantime you can listen to all of the tracks here.
12. Pure Bathing Culture - Only Lonely Lovers (

Memphis Industries

)
I love this track. It occurs halfway through the new Pure Bathing Culture LP "Moon Tides" which will be released next week on Memphis Industries in the UK and Partisan Records in the U.S. I presume the rest of the world can choose from either.