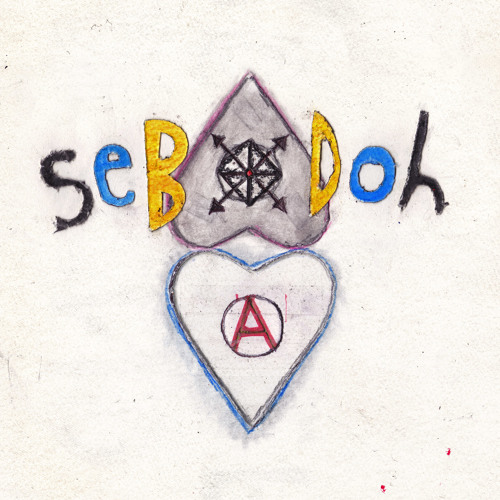 This is the first track to be released from the new Sebadoh lp "Defend Yourself" which will be released on Domino Records on 16th September. Lou Barlow and co. have a couple of UK dates coming up in October.
15th October - Manchester, Academy 3
16th October - London, Scala
2.

Cmn ineed yr hlp - 175 feet is a lot of water (Especially when you're under it) (

Self Released

)
"Though a mere three members strong, Cmn ineed yr hlp conjures a racket worthy of the enormous monsters they compose their records about. Founded in late 2007, the band bonded over a mutual broad-reaching taste in music and general culture. With comparisons ranging from Turing Machine to Pink Floyd, the trio stakes out their own unique brand of mathy, progressive post-rock.
With their second record "It Came Without Warning...As Most Disaster Do" the band has streamlined their writing and storytelling abilities to create an album even more fluid and surprising than their acclaimed debut "The Curse of B'Zhang". A combination of King Kong, 20,000 Leagues Under the Sea and Free Willy, the album tells the tale of a gentle sea monster trapped and kept against his will for the amusement and profits of his oceanfront captors. Our protagonist becomes frustrated with his predicament and sets forth on a plan to escape, regardless of the cost in human life."
You can download the full album (for a small donation)
here
.
3. Bla - El Problema De Ser Un Problema (

Elefant

)
Yet another sizzling release from the Elefant Records stable in Madrid is a new album by Bla. It's called "La Falta Básica" and is available now.
4. Burning House - Her Vowel No. (

Self Released

)
One of two great tracks which you can download free from the Southampton bands
Bandcamp page
.
5. Ontopsych - Earthworld (

Self Released

)
Another release which you probably should download is an E.P. by the mysterious Ontopsych. It's called "Marc Bolan" but don't let that put you off. It contains five slightly unhinged tracks of which this is one I've come back to quite a few times. You can download the whole thing
here.
6. Hiss:1292 - An Ethereal World Created Through The Poetic Imagination (Demented)
One of three tracks which can be found on a 12" single recently released on Demented.
7. Alpaca Sports - He Doesn't Even Like You
This is the lead track on a new 7" from Swedish popsters Alpaca Sports. You can pick up a copy of the record
here
.
8. Acquaintances - Learn To Let It Go
Well that looks like a nice shopping trip. It's amazing the uses that can be found for shopping trolley's! Anyway that is the cover from the debut self-titled album by Acquantances from which this track is taken. You can order it
here
and the nice clear vinyl version should be shipping about now.
9. Darren Hayman & The Short Parliament - Impossibilities (

Fika

)
Taken from the new album "Bugbears" which is available now on Fika Recordings.
10. Randomer - Ruffa (Turbo)
This track has possibly the most destructive bass I've ever heard. I listened to this in the greenhouse where I was tending to some distressed lettuce. By the end of the track it had fallen to pieces. Mind you that might be something to do with my right foot shooting upwards like a York City striker taking a penalty and sending the unlucky vegetable flying out of the door. This awesome power is the first track on a new release by the ever reliable Turbo label. It's a three track E.P. from Randomer and it's beautiful.
11. 14 Iced Bears - Cut (

Cherry Red

)
Taken from the recently issued compilation "Hold On Inside, Compete Recordings 1991-1986" which probably needs no further explanation so I'm off to my bath.
12. Torpa - Shadows In The Nursery (

Self Released

)
Torpa is back with yet another great EP that you can download for a price of your choosing from the
Torpa Bandcamp page
. This one is called "J L J" for reasons best known only to Torpa. It contains five tracks and clocks in at just short of half an hour. This is the third track and one which I keep coming back to. What a great way to end a Fodder.