1. Ovlov - Grapes (

Exploding In Sound

)
This record is a real treat. It's an album by Connecticut band Ovlov which you might have noticed is Volvo backwards. It's called "am" and can be ordered on vinyl or download from their
Bandcamp page
. The vinyl comes on tantalising piss yellow and swamp green vinyl. Recommended!
2. Hockeysmith - Now I Want To (Self Released)
I have no real information to give you about Hockeysmith apart from, they probably consist of two girls who may (or may not) come from Cornwall. Whatever I'm sure you'll agree this is a very decent track.
3. Pye Corner Audio - Dusk Veiled (

Dekorder

)
This is the shorter track from the new Pye Corner Audio record "Conical Space" which can be ordered
here
as a very nice 12" picture disc.
4. Mark Pritchard - Duppies (

Warp

)
Taken from the "Ghosts E.P." which released this week and is the first of three E.P.s to precede an album which will be released later in the year.
5. Preludes - Kalypso (

Self Released

)
This is a track from the new Preludes single which can be downloaded free from their
Bandcamp pag

e
. Not what I expected from a track called Kalypso although on the artwork it isn't but I'm pretty sure it is.
Possibly the most beautiful track I've heard this week. It's taken from a new album by Estonian band Picnic. In fact the whole record is stunningly beautiful. I wish it was winter because this is just the sort of thing to listen to while watching the snow build up. The album is called "The Weather's Fine" and was released last month on Shelflife.
7. The Fall - Bury (Bootleg)
Not even I could pass up on the chance to follow "Stop The Fall" with a track by The Fall. Of course it would be unthinkable to stop The Fall as this track, recorded at Fibbers in York a couple of months ago demonstrates. What a night that was.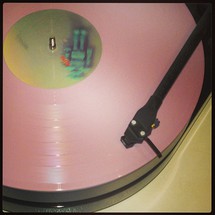 8. Taffy - Dawn Red (

Club AC30

)
If, like me you were hoping for great things from the new Taffy album then disappointed is something you probably will not be. "Lixivate" is the second album from the Japanese band and is once again brought to us on the ultra-reliable Club AC30 label. There is a
limited edition vinyl version
which is pressed on pretty lilac coloured plastic but only 250 exist so haste should be of the essence if you want to own one of those as I would be surprised if demand wasn't quite high for this album.
13th July - Scarborough Spa (supporting The Wedding Present)
14th July - Doncaster, The Leopard
15th July - Newcastle, Think Tank
17th July - London, Camden Blackheart
18th July - Bristol, Thunderbolt
19th July - York, The Basement (I will certainly be at this one!)
20th July - Edinburgh, Sneaky Pete's (supporting Blank Canvas)
21st July - Manchester, Night and Day
22nd July - Glasgow, King Tuts
9. Flux Of Pink Indians - Charity Hilarity (

One Little Indian

)
I had never heard Flux Of Pink Indians before but they originally released their "Strive To Survive Causing The Least Suffering Possible" album back in 1983 on Crass Records. They certainly made a great noise and now can be heard again as the album is about to be re-issued on One Little Indian. The package also includes the tracks from their "Neu Smell" E.P. and is available on double vinyl, CD and Download.
10. Egyptian Sports Network - Zero G Winter Olympics (

New Images

)
Taken from the five track E.P. "Interstitial Luxor" which is available now on 12" through New Images.
"N
ew Satellite transmissions recorded in Pacific City Sound Visions Studio by MATT MONDANILE of DUCKTAILS and SPENCER CLARK of PACIFIC CITY SOUND VISIONS. This futuristic tale of a Zero Gravity Sports network's soundtrack being transmitted from the Olympic Space Station via Satellite feed, revealing an intuitive feel for the grace and immensity of space when brought into conjuction with the next advent in Transglobal Sports News Interstitial music. Five pieces of high energy portal from the difficult listening and metallic abstraction of "2042 Zero G Olypmics" to the Global Space Station Club Hit "JAI-LAi Nightclub." A modern soundtrack to a film such as Carl Sagan's "Cosmos," ESN combines the the tele-prompt madness of current Global Sports Network with that of the blissful repetitions of '70s Minimalism. Think Sportscenter, but Intuit the the stream of your consciousness fed through satellites as it breaks through into the ether. "Like Christine Amanpour on Acid", quoted from BBC Analyst."
11. Horse Lords - Bending To The Lash (

Famous Class

)
This is Horse Lords contribution to a split single released last month on Famous Class Records. It's the 9th installment in their LAMC series and has a fine track from Lower Dens on the other side. You can order the vinyl
here
.
12. Glass Gang - Waves (Self Released)
Great new track from the Brooklyn trio.