1. Sizzla - Center Of Attraction (

VP

)
According to many sources "The Messiah" is Sizzla's 70th album which sounds almost unlikely that someone could produce that much output, but it appears to be true and even more impressively he hasn't even started to run out of ideas. His new album "The Messiah" is on first listen brilliant. Later listens prove it to be a bit better than that. "Center Of Attraction" is one of the tracks I keep coming back to but I really could have chosen any and you wouldn't have been dissapointed.
#
Earlier in the week I was fortunate enough to be the recipient of a whole load of new releases from Elefant Records of Madrid. This is the new single from Helen Love. It precedes their new album "Day Glo Dreams" which I think I'm right when I tell you will be released in July.
3. Belle Ghoul - Saturday Knife Fight (

Elefant

)
Another new Elefant release comes from Belle Ghoul. This is a track from their new E.P. which is released as part of Elefant Records "New Adventures In Pop" series of releases. This E.P. is of course available as a digital release but what I'm sure you really want is the blue vinyl seven inch single. It's a very deep, almost translucent blue which looks almost as nice as it sounds. There are only five hundred copies of the vinyl each of which will be accompanied by a 320kps mp3 in case you have forgotten to buy a turntable.
4. Blondes - Bora Bora (

RVNG

)
This is a track from theBrooklyn duo's new album "Swisher" which will be released on 6th August.
Taken from the album "Slow Friends" which has been around since March. It's available through their
Bandcamp page
as a download or cassette. The original cassette run of 50 has sold out but more will be available from next week.
6. Pixies - Bagboy (Self Released)
Well I never saw this one coming. I for one thought the chances of ever hearing a new Pixies track was slim in the extreme but here it is. Released to coincide with the announcement of the first leg of their forthcoming world tour on which they have promised to premier other new songs. Perhaps a new album is not so unlikely after all although it will be interesting to see how the dynamic of the band changes with the sad departure of bassist Kim Deal who I always thought was key to their fantastic sound. She has been replaced by Kim Shattuck who you might remember played with Los Angeles band The Muffs. Anyway this is the first new Pixies track in about a decade and I'm pleased to tell you it's absolutely superb.
SEPTEMBER 29 - Olympia, PARIS, FRANCE

OCTOBER
02 - Ancienne Belgique, BRUSSELS, BELGIUM
05 - Paradiso, AMSTERDAM, NETHERLANDS
08 - Huxleys, BERLIN, GERMANY
10 - Lucerna Music Hall, PRAGUE, CZECH REPUBLIC

NOVEMBER
01 - Gasometer, VIENNA, AUSTRIA
02 - Thonex, GENEVA, SWITZERLAND
04 - Alcatraz, MILAN, ITALY
07 - La Riviera, MADRID, SPAIN
09 - Coliseum, LISBON, PORTUGAL
13 - Falkoner, COPENHAGEN, DENMARK
14 - Sentrum Scene, OLSO, NORWAY
15 - Munchen Brewery, STOCKHOLM, SWEDEN
18 - Olympia, DUBLIN, IRELAND
21 - Apollo, MANCHESTER, UNITED KINGDOM
22 - Barrowlands, GLASGOW, UNITED KINGDOM
24 - Hammersmith Apollo, LONDON, UNITED KINGDOM
7. Flaamingos - Walk A Wire (

Felte

)
This is the second single from the Los Angeles band who will release their debut album on Felte on 27th August which can be pre-ordered from their Bandcamp page.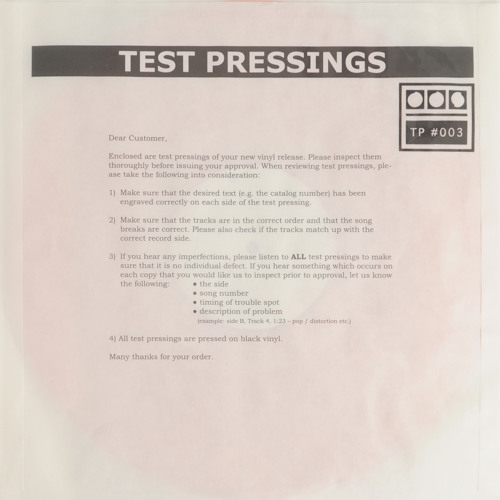 8. Demdike Stare - Dyslogy (Modern Love)
This is a track from the third 12" in the Testpressings series which was released last month on Modern Love.
9. Bombers - The Way You Think You Look (Dead London)
Following their debut single "Drawing" back in January the Birmingham band are back with a new release from which this track is taken. Their second single will be released by Dead London Records on 5th February. Really looking forward to an album from this lot.
10. The Illegal Wiretaps - I Won't Let You Decide For Me (

Self Released

)
What a lovely noise. This is one of five tracks on a new EP which you can download
here
for free if you so wish... and you should.
11. Kitten Forever - Famous Friends (

Guilt Ridden Pop

)
This track comes from the second full length release by Minneapolis band Kitten Forever. "Pressure" will be released at the end of the month and will feature 13 songs on a double 7" coloured vinyl in a gatefold sleeve package. Now if you're anything like me that will make you drool out of your belly button just thinking about it.
RIDE OR DIE WITCH NO BUMMER SUMMER: NOTHING'S BETTER THAN FRIENDS TOUR 2013
7.06 - Minneapolis, MN - Hexagon - tour kick off show w/ Oaks, Lutheran Heat_
7.09 - Minot, ND - DUFF MOUNTAIN w/ Nora & the Janitors, Jerica & the Crown Royals, Chapstick
7.10 - DRIVING DAY
7.11 - Missoula, MT - VFW w/ Javier Ryan, Needlecraft, Dogbreath, Diners
7.12 - Seattle, WA - THE COCKPIT w/ Half Breed
7.13 - Olympia, WA - TBD
7.14 - Portland, OR - THE KNOW w/ Forever, Fat Transfer
7.15 - Eugene, OR - TINY TAVERN
7.16 - Redding, CA - BOOTY BALLROOM
7.17 - San Fran, CA - VACATION THRIFT
7.18 - San Fran, CA - THRILLHOUSE RECORDS w/ Crabapple, Sourpatch,The Maneaters
7.19 - Los Angeles, CA - HAUSONDAHILL - "Coolworld" w/ French Vanilla
7.20 - Bakersfield, CA - NARDUCCI'S CAFE
7.21 - Phoenix, AZ - FUNNY WORLD w/ Father's Day
7.22 - Abq, NM - TORTUGA w/ Eileen & The In-Betweens, Dead Gunz
7.23 - El Paso, TX - EPIC w/ Bat/Caves, Miijas, Communion of Thieves
7.24 - Austin, TX - HOTEL VEGAS - Rock and Roll Dance Night!
7.25 - Houston, TX - NOTSUOH
7.26 - New Orleans, LA - TBD w/ Southern Femisphere
7.27 - New Orleans, LA - ASHLY'S BACKYARD w/ Troubled
7.28 - Memphis, TN - BUCCANEER w/ Gloryholes, SVU
7.29- Springfield, MO - MARTHA'S VINEYARD w/ Suzi Trash, New Madrid
7.30 - Lincoln, NE - THE Q - Once A Pawn
7.31 - Iowa City, IA - TBD
8/4 - Minneapolis, MN - Kitty Cat Klub - "Pressure" album release show
12. Whirr - Swoon (

Graveface

)
Following last years impressive "Pipe Dreams" album Whirr are back with a new EP "Around" which is released this week on Graveface Records.