1. Elephant Stone - Love The Sinner , Hate The Sin (Reverberation Appreciation Society)
This is a track from the Canadian band's second album which was released last week. They are embarking on a lengthy U.S. tour throughout March and April details of which can be found on their website. Hopefully we'll see these guys in the U.K. before too long.
A blistering new release on Katorga Works and Video Disease is the debut 12" by Stoic Violence who as the name suggests are rather noisy, pounding through eight tracks in what feels like the blink of an eye but is in fact nine minutes. You can buy the record from either label and also download the thing for free which is always a bonus.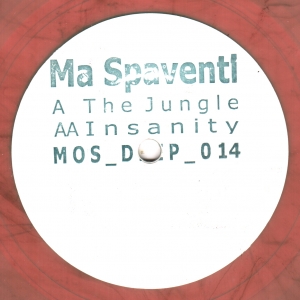 3. Ma Spaventi - Insanity (

Delsin

)
Loving this track at the moment. It comes from a new ten inch release on Delsin Records and the first 100 copies come on lovely orange/pink vinyl.
4. Utopia:Banished - Skeletal (Demo)
What a great racket. Apparently this is just a demo, "a raw cut of one of the songs we've written" as quoted from their website. My concern is that by the time the finished product arrives all the goodness might be produced out of it as has happened so many times in the past. To my ears there is absolutely nothing wrong with this track exactly the way it is and if anyone from the band are reading this I hope they take heed and save themselves a few quid on pointless production.
5. Old English - Lotteries And Tents (Self Released)
Taken from the album Prose & Kahns" which was released last week as a digital download and limited edition compact disc of which there are only 300.
Another great release you can download free this week is a new E.P. from Los Angeles band SLZR. This is the first of five tracks on the record which netlabel Indian Gold have very kindly made available via
Bandcamp
.
Taken from the album "Lowways" which can be downloaded completely free from their
Bandcamp page
.
8. Kramer - I Want Candy (

Tzadik

)
This is a track from Kramer's third release for Tzadik Records. It's an album of cover versions of songs written in the Brill Building between 1960 and 1966. It was recorded in Kramer's Noise Miami studio at his home in South Florida. I've never been a big fan of cover albums but this one, as you would expect from Kramer is a bit different and well worth a listen.
This one of those records which just get's better as it goes on. It's the debut album by Seattle band Wimps and has just been released by End Of Time. Few tracks trouble the two minute mark. In fact all twelve pass in less than half an hour. I had a bit of trouble deciding which track to share with you but I don't think you'll be disappointed with this one.
10. Clouds - Local Bubble (Twin Turbo)
This is a track from a new E.P. on the ever reliable Twin Turbo label from Clouds who I think come from somewhere in Scotland but there is every chance I just made that up. The E.P. has the snappy title "Bulbophyllum Remiferum" which at first glace looks like a bunch of random letters thrown onto a record sleeve but I'm sure some clever person will later inform me of some deep and meaning of these alleged words.
11. Cheatahs - Coared (Wichita)
I've listened to this album a fair few times over the last week and it just seems to get better. It's basically a compilation of their first two E.P.s welded together into an alum entitled "Extended Plays" which was released by Wichita last week.
There I was having a nice soak in the bath and the power went off. Furious I was as I clumsily clambered out of the tub soaking the bathroom floor in the process and fell over the cat. It was only a short power cut but long enough for me to finally find my ipod (I'm sure it keeps moving) and listen to this fine album. Well I say album it only contains six tracks but the last one, a lovely tune called "The Opulent Decline" is over seventeen minutes long. It's the new album from San Francisco duo Barn Owl. It goes under the simple moniker "V" which made me think of the poor TV series from the eighties of the same name but thankfully this album is much better than that. "V" will be released by Thrill Jockey on 15th April.