What a Record. It's the debut album from Leeds band Flies On You. Entitled "Nothing To Write Home About" it was released back in September but I missed it completely until a Scotsman showed me the error of my ways. It does make me wonder how many great records I don't hear every week, quite depressing really so my new years resolution is to search even harder for new records because I'm not having records like this slipping through the net. "Nothing To Write Home About" can be purchased from their obligatory
Bandcamp Page
for just £2.50 which let's face it is a bit of a bargain.
2. Terracotta Blue - Heatseeker (

Self Released

)
Taken from the new Terracotta Blue album "Shine Again" which is available for a price of your choosing from their
Bandcamp Page
.
3. Sun Araw - I'm Gonna Cross That River Of Jordan (

The Great Pop Supplement

)
If you were paying attention last week you would have noticed that fine Spacemen 3 track taken from a split seven inch with Sun Araw who contribute this track to the record. It might be nine minutes long but I could easily listen for another twenty!
4. Barry Brown - Sister Magling (Greensleeves)
A brilliant track which is the first on the album "Right Now" which is available on the legendary Greensleeves label. There is also an awesome dub version of this by We The People band on here which also needs to be heard and is reason enough to buy it in my opinion.
5. C-Doc - Braggadocio [Dandimite Riddum Mix] (Self Released)
I haven't heard nearly enough rap records in 2012 and certainly aim to listen to a lot more in 2013. This is particularly good in a bit of an old school way. It's a track from the new E.P. from C-Doc entitled "United We Fall" and actually has quite a diverse mix of styles across the nine tracks. This one is pretty straightforward but there is another track called "Robot House" which is also pretty stunning and may well pop up in a future Fodder. You can download the whole thing completely free (and legal)
here
.
6. Darren Hayman and The Long Parliament - Rebecca West (Fortuna Pop)
Probably the most listened to record in my house at the moment is the new offering from Darren Hayman and The Long Parliament. It's called "The Violence" and chronicles the Essex Witch Trials which happened between 1644 and 1646 during which hundreds of women were executed for being potential witches. The album is available on all of the expected formats but the double vinyl version is particularly sexy.
Darren Hayman and The Long Parliament will play at The Lexington in London on Thursday 10th January with support from Shrag and Hauku Salut. If only I could be there.
7. Iroha - You Reap What You Sow (

Denovali

)
Taken from the Birmingham bands second album "Shepherds and Angels" which was released in December on Denovali Records.
8. Fur - Another Satellite (Self Released)
Taken from the Detroit bands great album "Image on The Reverse" which can be purchased on digital, CD or limited vinyl from their
Bandcamp page
.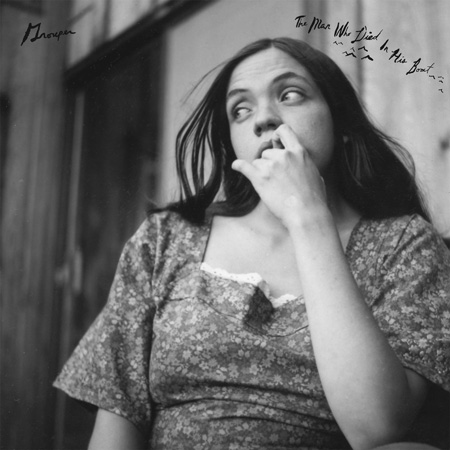 9. Grouper - Vanishing Point (

Kranky

)
This is a track from an album of previously unreleased Grouper tracks called "The Man Who Died In His Boat" and will be released on Kranky Records on 4th February.
10. Galoshins - Chank (Armellodie)
Fighting out of Gourock on the western side of Scotland come Galoshins with what I suppose is a double release. "E.P.1" and "E.P.2" were both recorded last summer and will be released as an eleven track album by the ever reliable Armellodie label on 4th February. Excellent stuff and apparently there will be more E.P.s as the year goes on.
11. SPC ECO - Push [Lady Barcelona Remix] (Self Released)
A fine remix of the current SPC ECO single which can be downloaded for just £2 from their
Bandcamp page.
12. Allo Darlin' - Dear John (WIAIWYA)
This is a track from the December release on the Where It's At Is Where You Are singles club. This time it's the turn of Allo Darlin' who released one of the best album of 2012 with their second album "Europe" and hopefully a third may grace our ears in 2013. This single comes on red vinyl is very limited and in fact has now sold out but you can still purchase the download from their
Bandcamp Page
.