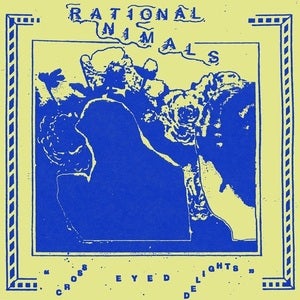 A brilliant new single from Rational Animals on the equally brilliant Katorga Works label.
"
The Bad Boys of Katorga Works, Rational Animals, follow up their 2011 LP and a 2012 7" single on Cowabunga with the
Cross Eyed Delights b/w Way After Midnight
7", their last release as a band.
This 7" signals a new direction for the band, one that was made clear by their aforementioned

Bock Rock Parade

LP. In hindsight, that LP exists in a clear transitional state between the late-era Black Flag worship of their first two 7"s and their new sound on these 7" singles, which is more informed by the 90s underground than Greg Ginn's loneliness.
"Cross Eyed Delights" ranks as both Rational Animals' most beautiful moment and their crowning achievement-to-date. "Way After Midnight" compliments its flipside perfectly, acting as a lurching, creeping, classically bluesy stroll through late night longing. A perfect single, a perfect way to go out.
"