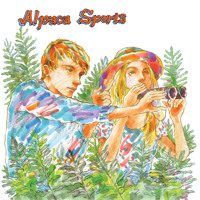 One of three tracks on a fantastic new seven inch single from Alpaca Sports which will be released on vinyl by Cloudberry and digitally by Luxury Records of Sweden. Alpaca Sports are one of those bands I never want to get an album by. Their tracks are just perfect for seven inch singles and let's hope for many more next year which is when this one will appear. I don't have the exact date but I think it's safe to say January.
2. Silicon Ballet - Slowly Slowly (Rainboot)
Current single from Silicon Ballet released last month on the Rainboot label.
3. Rational Animals - Cross Eyed Delights (

Katorga Works

)
Blistering stuff from a new seven inch single on the incredibly consistent Katorga Works label. The full thing can be downloaded further down this page and purchased for just $5 from the
Katorga Works website
.
4. Infinity Girl - Taking Nothing (

Self Released

)
Taken from Infinity Girls superb new five track E.P. "Just Like Lovers" which can be downloaded from their Bandcamp Page.
5. Belle Ghoul - (Out Of) The Neighborhood (Elefant)
This is a track from a seven inch single on Elefant Records of Madrid. It's one of the latest releases in Elefants "New Adventures In Pop" collection and is limited to just five hundred copies.
6. Los Campesinos - A Doe To A Deer (Self Released)
To be honest I haven't heard many new Christmas records this year and those I have have been bloody awful with the possible exception of a Christmas compilation which has just been released on Elefant Records which features contributions by the likes of The School and The Primitives. Unfortunately I haven't heard it because I messed up the download and the promo coupon only works once but I will certainly purchase it before the big day as it sounds like an essential album to be playing while tucking into the turkey (unless your a vegetarian in which case you'll be tucking into a sprout... only kidding, don't get upset).
This however is a pretty damn good Christmas record from those Los Campesinos folks who seem to have been a bit quiet this year but are ending it by making this tune available to all.
7. Breathless - Next Time You Fall (

Tenor Vossa

)
Taken from the album "Green To Blue" which sounds like it really should be on 4AD records.
8. Playpad Circus - Sculpting Supernova (

Equinox Records

)
One of five great tracks on a new ten inch E.P. on Equinox Records.
9. Shallow - Out Of Focus (

Self Released

)
This is a track from Shallow's "Mistakes" E.P. which is available from their
Bandcamp Page
as a digital download or a limited hand numbered cassette of which there are just one hundred.
10. Veronica Falls - Teenage (

Bella Union

)
I've been looking forward to this album for ages and now it's finally here. It's the second album by Veronica Falls entitled "Waiting For Something To Happen" and is already my favorite record of 2013. It's called "Waiting For Something To Happen" and will be released on Bella Union on 4th February. I have a feeling we will be hearing a lot more from The Falls in 2013, and yes I do mean both of them.
Veronica Falls will be playing some gigs in the UK next year and I am already looking forward to the Leeds one.
8th February - London, Shoreditch Church
14th February - Norwich, Arts Center
15th February - Leeds, Brudenell Social Club
25th February - Sheffield, Harley
26th February - Glasgow, CAA
27th February - Newcastle, Cluny
11. Torpa - Why Do People Die At Christmas (

Self Released

)
Very nice indeed. Perhaps not the most festive of titles but people do die at Christmas and this track is suitably haunting. You can almost imagine what it sounds like from the sleeve, they go so well together. It's been made available for a price of your choosing from the
Torpa Bandcamp page
where you will also find the many other great single Torpa has spewed forth in 2012.
12. Edine Avec Lisle Mitnik Et Son Orchestre - The West Coast (

Elefant

)
Aww how nice is this. It's another limited single on Elefant Records, just five hundred copies and all on lovely white vinyl.