1. Ghost Of Chance - Wooden Tambourine (

Obscure Me

)
What an E.P. This is one of four tracks on what I believe to be the New Haven bands debut release but will probably turn out to be their fiftieth just to make me look like a tool. It will be released as a seven inch single on 15th November on the Obscure Me label.
10/30/12
Mr Roboto Project
Pittsburgh, PA
11/1/12 Haymarket Whisky Bar Louisville, KY
11/2/12 tin roof Nashville, TN
11/3/12 the nick Birmingham, AL
11/4/12 Smith's Olde Bar Atlanta, GA
11/5/12 The Cave Chapel Hill, NC
11/7/12 Kraken bar Chapel Hill, NC
11/8/12 Velvet lounge Washington, DC
11/10/12 Kung fu neck tie Philadelphia, PA
11/12/12 Death by Audio Brooklyn, NY
11/14/12 Bar New Haven
Another vinyl release which is giving me pleasure at the moment is the debut E.P. by Potty Mouth and I can't really tell you much about it as I know bugger all except for the fact that it contains six trackks and makes a lovely noise. What more can you ask for? Interestingly this record seems to be a split release between no less than three labels. How that works I have no idea I'm just glad someone has put this record out.
Check out that sleeve. Give it a couple of months and hopefully that will be the view from my window (minus the trees and add a few houses). The music just about equals the beauty of the sleeve with six ambient pieces interspersed with a rather nice voice (Christine Hanson) reading poetry as you will discover on this track.
4. Shoxx - Dark Cylinder (Demo)
Possibly not the best quality sound but I quite like it that way. This is a track from a demo cassette by Shoxx who I'm pretty sure come fighting out of New York City but as with everything I say don't take is as gospel as I have been know to have been completely wrong on more than a million occasions. I'm not entirely sure where you can get a copy of this cassette. I thought it might have been available on the
c6 Recordings website
but as I write this it isn't.
5. The Telescopes - Black Eyes Dog (

Trensmat

)
This is the lead track on a seven inch single released earlier in the year on Trensmat Records. Unfortunately the seven inch is now sold out on the Trensmat website but they do have several other records for sale which look interesting and I think an order will have to be placed.
6. Nina Ciboulette - Nubes (Self Released)
Taken from Nina Ciboulette's self titled debut album which is available as a free download from here. Very nice.
7. Delay Trees - Future (

Soliti

)
Taken from the Finnish bands new album album "Doze" which is available now on Soliti Records.
8. Heart Of Hearts - Grass Mask (

Bleek

)
This track come from the new record by Greg Hatem aka Heart Of Hearts. The album is called "My Society" and features a trio of fanatical looking birds on the sleeve which look quite menacing after a bottle of wine. It's available digitally if that's your thing or you could push the boat out and get one of the very limited (100) vinyl copies which would enable the three birds with four feet to look even more haunting.
9. The Sunbathers - It Doesn't Matter If It Rains (

Dufflecoat

)
One of five tracks on an E.P. entitled "January, February, March, Ely, Cambridge" which is available from Dufflecoat Records or as a download from their
Bandcamp page
.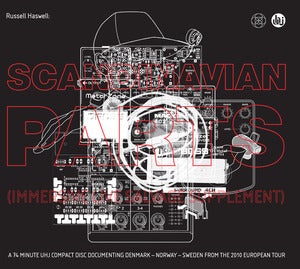 10. Russell Haswell - Aarhus, April 5, 2010, Part 2 (UHJ) (

Ideal

)
I finished the last Fodder with a track from the new Russell Haswell E.P. "Factual" which is probably the best electronic record I've heard all year. This by comparison is a track from a new album which is not strictly new as it was recorded live or should I say taken from live recordings made across Scandinavia in 2010 and thus has the snappy title "Scandinavian Parts (Immersive Live Salvage Supplement)" and is as noisy as my missus in a bad mood. As far as I'm aware it's only available on CD which is a bit of a rarity these days although I could be completely wrong about that.
11. The Pear Traps - Sister (

Self Released

)
Taken from a four track E.P. called "Elsewhere" which can be downloaded for a price of your choosing from their
Bandcamp Page
.
12. Snow Palms - Index Of Rivers (

Village Green

)
I'll finish this weeks fodder with some moments of beauty. It is actually snowing as I write this. It's the first time I've ever seen snow in October but I'm sure it must have happened before. Personally I'm hoping for a harsh winter with loads of the stuff but perhaps I'm in a minority there.
This album sounds like it's all about snow and is the perfect soundtrack to those snowy days which hopefully won't be too far away. The record is called "Intervals" and will be released on Village Green on 19th November.