1. Adrian Sherwood - U.R.Sound (

On U Sound

)
The master of dub is back with anew album and on the classic On U Sound label as well. It's called "Survival And Resistance" and will dissapoint no-one as it's right up there with anything the supreme dub merchant has done in the past.
2. Candidate - Brutal (

Self Released

)
Taken from the album "Psychic Dissonance From The Unself" which can be purchased as a digital download (or limited edition vinyl and t-shirt) from the
Candidate Bandcamp page
.
...ohh piss! I almost forgot to mention that it won't be available until 15th October. I'll probably remind you a bit closer to the time.
3. The Fear Ratio - Fedec (

Blueprint

)
One of four excellent tracks on the UK duo's latest release, the "Skana E.P.". which is available now through the classic Blueprint label.
4. Youth Pictures Of Florence Henderson - All I Remember Is Punk Rock (

Count Your Lucky Stars

/

Siste Sukk

)
Firstly what a great name for a band and secondly what a great E.P. It's called "Small Changes We Hardly Notice" and apart from having a great sleeve is also available on sexy blue vinyl which as you can tell from the above picture is pretty essential for your continued happiness. It's called electric blue and there are 350 of these available. The other 150 are in bog standard black but still make a great noise. Of course if you do not have a soul digital versions are also available.
5. The Men - Animal (

Sacred Bones

)
What a great record this is and more to the point how did I miss it? It was released on the always reliable Sacred Bones label a couple of months ago and passed me by completely so a massive debt of thanks is due to a certain William Sheridan for finally furnishing me with the music. This is the third album from the New York quartet and in my opinion the best yet although I think I will have to ga and have another listen to their 2010 debut "Immaculada" which was a bit on the good side as well.
6. Four Tet - Pyramid (Text)
Mr Hebden (aka Four Tet) certainly has released some great records recently and has now had the decency to compile them all onto one album four those of you who can't play vinyl.
"I have been releasing a few vinyl only singles over the last year or so and this album called Pink brings together those tracks. It will be released on the 20th August as a digital release on my Text label and there will also be a CD release in Japan through Hostess Entertainment on the 22nd August. Two of the tracks, Lion and Peace For Earth, have not been released on vinyl yet but I plan to make that happen one day."
7. The Joy Formidable - Wolves Law
This is a new track from the former North Wales band who are currently working on their new album which will hopefully be with us before York City have lost too many more games (away against Barnet this afternoon, hopefully might be our first win of the season). Anyway this track starts in a very un Joy Formidable fashion but soon develops into a sound which seems to have moved on somewhat since their last album "The Big Roar".
8. The Hermit Crabs - Stop This Now (

Matinee

)
This is a track from the Scottish bands new E.P. "Time Relentless" which will be released on Matinee Recordings next month.
9. VCMG - Aftermaths [LFO Remix] (Mute)
I really like this mix from the new VCMG E.P. "E.P. 3 Aftermaths" which was released last week on Mute. Also contained herein are remixes by Alva Noto, Christoffer Berg, Gesaffelstein and Vince Clark himself.
10. Thee Oh Sees - Hang A Picture (

In The Red

)
Taken from the excellent new Oh Sees album "Putrifiers II" which will be released on In The Red Records on 17th September. I'm going to have nightmares about that sleeve. The band are about to tour the States with Ty Segall and later Sick Alps. Full details can be found on the
bands website
. I would normally type out the tour dates but there are rather a lot and I'm nothing if not a lazy bastard.
11. SPC ECO - Casa De Los Ojos (Self Released)
Taken from the new album "Dark Notes" which was released last week and can be downloaded from their Bandcamp page for just £4. A great album and if you like your music ambient the last track, cunningly entitled "Dark Notes (outro)" will be twelve minutes of pure heaven for you. It certainly was for me.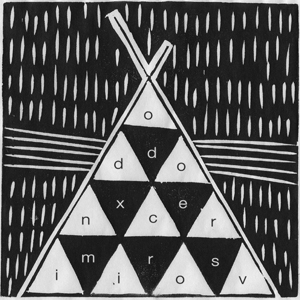 12. Indoor Voices - Nevers [Daisyland Remix] (

Self Released

)
How nice is this. It's taken from the Canadian bands new remix album which can be downloaded in full further down this page.