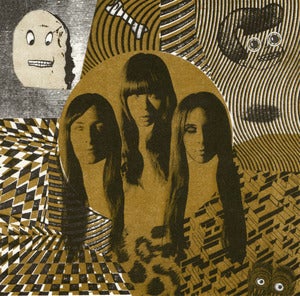 Taken from the five track self titled E.P. which is now on it's second pressing on very nice lilac vinyl.
2. Making Marks - Hard To Be Good (

Fika

)
Formerly known as My Little Pony (awful name) now slimmed down to a four piece and part of the Fika Recordings roster this is the first taste from the Norwegian bands new album which will hopefully be released early next year. Their Fika debut will be a seven inch single called "Ticket Machine" which will be released in October.
g
3. Island Twins - The Wolfs Lair (

Self Released

)
I've been loking forward to this record for ages. It's the debut album from Brooklyn band Island Twins who impressed us last month with their insanely catchy "Creepaway" single which has been a regular on my ipod recently. The self titled album is available to download from the bands
Bandcamp page
for $8 or you can order the limited edition vinyl version which appears to be on Fighting Ghosts Records. It's limited to just five hundred copies which come on lovely green vinyl.
4. Vakula - Dub As Always (Shevchenko)
Lots of vinyl in this weeks Fodder. This record was actually released towards the end of last year but I've only just managed to get one. It's a twelve inch single from Ukrainian artist Vakula which comes on very nice clear vinyl on the Shevchenko label. It's the third release on Shevchenko but the first in my collection. This is the track which appears on the a-side of the record while a thirteen minute monster entitled "Untitled" which is cool.
5. Suffering Astrid - Thousand At A Glance (

Self Released

)
You might remember a few month's ago I posted a track fro this album while it was apparently still work in progress. Now it's finished and is pretty damn impressive. It's called "Netheriser" and can be downloaded from the Suffering Astrid
Bandcamp page
for a price of your choosing.
6. Blonde Summer - Slow Days, Fast Company
Taken from the Californian band's new E.P. "Slow Daze" which will be released on 31st July.
7. Dressed In Wires - How Long Have You Known (

Bear With Me

)
They never let you down do they. This is it the fourth and final installment in their "Bring The Exhibits" series which is, I'm sure responsible for seventy percent of premature hearing loss over the last year or so. The final album in the series is called "Needs" and is just as likely to give your ears a good kicking as a Luton Town fan (only joking... sort of). There is also going to be a rather limited limited edition as their press release describes...
"
There will be 25 strictly limited edition special copies, packaged in sealed manilla envelopes stuffed with discarded cassette tape and broken guitar strings , for around 7 pounds each. When those copies are all gone, it will be put out as modest boring physical editions in plastic cases or something at dirt cheap prices. It's also available as as a boring mp3 version at name-your-price prices, or probably torrentable for nothing if that's how your wrists are going to insist.
This release is guaranteed unavailable on any internet streaming services.
(The first song is specially formulated to clean the disgusting pop residue of Part The Third out of your earlugs; things begin to get slightly nicer again following that administrative procedure, so don't switch the whole thing off and bin it just because you didn't like the first seven minutes, it perks up.)
"
"Needs" will be available as of 13th August on their own Bear With Me label.
8. Along Came December - Flames Burn Bright (

Canata

)
The latest release on Canata Records is a four track E.P. from Along Came December which can be downloaded free from their
Bandcamp Page
.
This is the b-side of the current single "What To Do" which was released last week on Clek Clek Boom.


10. Internet Forever - I Don't Care (Tape Alarm)
Another record which I'm possibly a bit late on is the debut album from "Internet Forever". I think this was released back in April and the chances are everybody in the whole wide world has a copy by now.
11. Twin Cabins - Ashes (

Self Released

)
"I'm Sure" is the debut release from Nacho Cano otherwise known the world over as Twin Cabins. I'm not sure as to the exact release date or indeed what formats will be available. In fact all I have is this track which will be a bonus track on the album. You can sample some of the other tracks at
Twin Cabin's Bandcamp Page.
12. Merx - The Law (

Permanent

)
A terrific new release on Permanent Records of Chicago.
"
MERX is the most highly-educated band of professionals in LA. Maybe that's why the members have chosen to keep their off-the-grid musical hobby so minimally simplistic. Each one of the nine songs on Merx's debut LP is comprised of looped synthetic drums, repetitively melodic bass and synth lines, and post-apocalyptic Morricone-esque guitar bits. Over the top, a very tall man in a Throbbing Gristle/Mickey Mouse/Grateful Dead parody tee speak/sings shouts/whoops like a baritone hybrid of Ian Curtis, Nick Cave, and Alan Vega. His lyrics are simplified existential philosophies that seem worthy of printing, studying, analyzing, and pondering for all eternity. Of course, this man chose not to include his lyrics on the insert. What you do get, however , are a bunch of random hand-made collages, stickers, and weird notes written by band members (who will remain nameless) themselves. The songs are short, memorable, and timeless post-punk numbers that sound similar, but not exactly like anything we've ever heard before. The band member's education obviously extends beyond the classroom and into the rock'n'roll realm, specifically UK circa 79-81. "Merx" is a timeless 21st century record for connoisseurs with a morbid curiosities. That means you. Mastered by Cooper Crain of Cave, Bitchin' Bajas at 45 RPM for maximum response, volume, and fidelity. Highly recommended, indeed.
"