An excellent new single from Veronica Falls to kick off this weeks Fodder. They actually played in my home town of York recently and as usual I only found out about it a few days after. Still this is a good track and is the first since their impressive self titled debut last year. Hopefully there will be a follow up this year and perhaps I might finally get to see them live.
2. Raw Meat - Failed Revolution (Demo)
This is the first track on a demo tape from New York band Raw Meat which consists of various members of Nomos and Rival Mob.
3. La Sera - I'm Alone (

Hardly Art

)
Taken from the new album "See's The Light" which will be released next week on Hardly Art.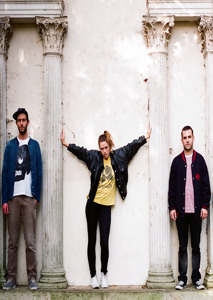 4. Clock Opera - One And For All (Legendary Children Dub)
I really wish I could tell you at least something about this track but I've done something to the accompanying e-mail to make it disappear.
5. Food Pyramid - Burger Night [Version] (

Moon Glyph

)
This is a track from the album "Mango Suprise" which is available now on vinyl and CD, both formats limited to 500 copies.
6. Party Faithful - Party Faithful
This is the self-titled title track from the London bands debut EP which was released on 23rd March.
7. NHK - Hydra (

PAN

)
Strange stuff indeed from a split 12" which NHK share with SND. I particularly like the last twenty seconds when things go a bit wonky.
8. We'll Go Machete - Kids In Front (

Stressed Sumo

)
Take from a new album on the Stressed Sumo label entitled "Six Plus Ten" which as you can tell from this track doesn't mess about.
9. You Slut - Elton Chong (

Stressed Sumo

)
Another release on the increasingly impressive Stressed Sumo label is an album by Derby band You Slut who's debut effort "Medium Bastard" will be released in a couple of weeks time. Something tells me they might struggle to get much radio play but you can catch them live around the UK next month.
7th April - Derby, Victoria Lounge
8th April - London, Stags Head INFL Festival
15th April - Leeds, The Library
3rd May - Nottingham, The Chameleon
4th May - Blackpool, Blue Room
5th May - London, The Horatia
6th May - Derby, The Silk Museum
10th May - Belfast, Queens University
11th May - Portrush, Retro Bar
26th May - Brighton, Nice Weather For Airstrikes Festival
2nd June - Leicester, White Noise Festival
23rd June - Nottingham, Waterfront Festival
10. Venetian Snares - Index Pavillion (Timesig)
Taken from the "Fool The Detector" EP which is available now on Simesig
11. The Men From... BEYOND - The Law Is A Heartbreaker (

Bleeding Gold

)
There really should be more records like this. It's a track from a new E.P. on Bleeding Gold records by The Men From... BEYOND which is the brainchild of a geezer called Devin Dart and can be downloaded completely free
HERE
.
12. HOUNDSds - Anarchists In Love (

Self Released

)
This is a track from the Brooklyn bands latest release "Phone Thou" which can be downloaded in full from their
Bandcamp page
for a price of your choosing of if you're feeling a bit more sophisticated you might be interseted in the cassette version which can also be purchased from Bandcamp for $5 assuming you have the means to play such a device. If not you could twiddle it round a pencil while listening to the mp3's and have a whale of a time.