1. Slow Animal - Back Of Your Head (Self Released)
Taken from the self titled debut album which can be downloaded in full further down this page. Great stuff.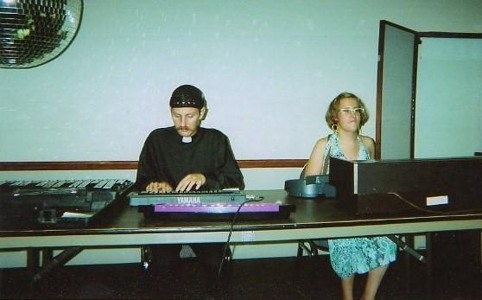 2. Oreaganomics - She's (Self Released)
One of two great new songs from the Chicago band. The other one will be included next week's Fodder.
3. Bitches - Kill Birds, Eat Shit (

Gravy

)
Whatever you do make sure you play this as loud as your equipment can muster. It's a track from the new Bitches EP "Buster" which will be released on Gravy Records on 18th March.
4. Trei and Concord Dawn - Hellbent (Uprising)
Taken from the "Wipout EP" which was released last month on Uprising Records
5. Boy Party - Grange (

Bleeding Gold

)
One of four tracks on a new free EP from Bleeding Gold records who you will recall recently gave Tear Talk's brilliant "Port Sunlight EP". The new SArah Records perhaps... maybe not but they certainly are putting out some great stuff at the moment.
6. Field Mouse - Happy (

Small Plates

)
This is the b-side of the latest seven inch release on the Small Plates label. It's the new record from Brooklyn band Field Mouse who featured in these Fodders a fair few times last year. The records all come on mottled clear vinyl and are available from the
Small Plates webstore
for $7
7. High In One Eye - Pleasure Derived From The Misfortunes Of Others (

Self Released

)
More New Orleans noise merchants. High In One Eye have just this very week made available their new album "Memory Hoarders" through
Bandcamp
on one of those pay what you like deals.
8. Steinvord - Syg X-1 (Rephlex)
One of five tracks from a new 12" on the Rephlex label.
9. Island Twins - Lying In State (Self Released)
This is the first track on the Brooklyn bands self titled debut album which will be released on 1st May.
10. Christian Samuel - Thoughts (

Self Released

)
This is a track from one of Christian's new albums "Kit Flips". I say that because he appears to have no less than three new albums available for download from Bandcamp at the moment. The other are called "Shallow Bursts" and "Blast Tape" and can be downloaded completely free from his aforementioned
Bandcamp page
.
11. Venetian Snares - Ego DSP (Timesig)
This is the first track on their new "Fool The Detector" EP which was released just this week on Timesig.
12. Sixteen Delex - Reactive (

Self Released

)
Originally released as an eight track CD back in 1997 by Genuis Records "The Pilot Knob EP" has this week being re-issued as an expanded ten track digital album which can be purchased from the bands
Bandcamp
for a price of your choosing. Well worth a listen if you missed it the first time around. This particular track as well as being on "The Pilot Knob EP) also appeared on a seven inch single issued in 1996 on Propellor Records which the Austin band have also re-issued through the mighty forum of Bandcamp.