1. The Quiet Americans - Weird Mountain (

CoatTrack

)
This is a track from a six track cassette which is limited to just 100 copies and can be purchased, if any remain from the
CoatTrack records website
. Quiet they are not!
"Fresno, California band
The Quiet Americans
was formed in 2010 by songwriter
Luke Giffen
and drummer
Eli Reyes
. The Quiet Americans combine bright melodies and animal like drums with fuzzed out guitar squall. Sort of like Link Wray meets Dinosaur jr. filtered through an echo chamber.
The six song EP
Medicine
is their first release and is out on local cassette collective
Coattrack Records
. The recording of
Medicine
was a family affair, Eli is married to Luke's sister, and Luke's little brother Ross contributed moog synth to the record. The entire record was tracked to an old Tascam 8 track reel to reel recorder, in their practice space.The Quiet Americans have recently expanded their live lineup to include Simon Smeds on bass, and Steve Loveless on organ, and have played some cool shows including opening slots for A Place to Bury Strangers, The Fresh and Onlys, Royal Baths, and Light Pollution."
"
Stefan Neville
- the brains, heart & voice behind
Pumice
- has been relatively quiet of late.
PUNY
- released 6 March 2012 - is the first Pumice full-length album in four years, following an-album-a-year pace & life on the tour, abroad in years prior. Pumice has been mainly dormant during this time, aside from a split single with
Grouper
, and a few other EPs; instead Neville worked closely with others (as a member of Olympus, The Coolies, The Renderers, Chris Knox/The Nothing, and The Spunks & probably more), largely leaving alone his own music & visions.
As with all other recent Pumice outings,
PUNY
was recorded, conceived and performed by Neville himself. It's a melancholic, oft self-effacing work - even by his standards - yet not the product of an isolated soul. Pumice is still quiet raging along, beaming truly unique transmissions from his bedroom studio in Auckland, New Zealand."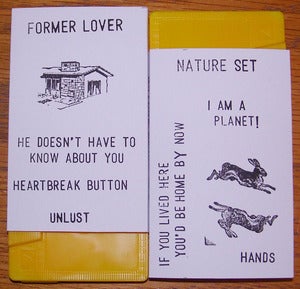 This is one of the Nature Set tracks contained within the bright yellow cassette they share with Former Lover. There are only 100 of these dazzling items in existence and as you can see from the above picture if you don't happen to own a cassette player you can just fondle it in a suggestive manner. The cassette can be purchased from the
Naked Under Spacesuit website
for a measly £2.50.
4. Dressed In Wires - If I'm Not Meaty Don't Force It (

Bear With Me

)
Taken from the new Dressed In Wires album "Honey, You Tore Me Apart Last Night" which is the third of four records in their "Bring The Exhibits" series. This is from the press release.
"
Presenting the third volume of 2011/12's Bring The Exhibits odyssey, this one's an album of post-traumatic wrong-cocked Sampledelica, 16-bit kronktronics, and dub-wave Wasteline. A shameless exercise in generation-defining glittery neo-goatsepop, it's a perfect soundtrack for the party that went wrong that you never wanted in the first place. Take it like you want it.
There will be 25 strictly limited edition special copies in individual hand-made packaging, for around 7 pounds each. When those copies are all gone, it will be put out as modest boring physical editions in plastic cases or something at dirt cheap prices. It's also available as a boring mp3 version at name-your-price prices, or probably torrentable for nothing if that's how your wrists are going to insist.
Please note this version of the release is the collector's edition self-released "first pressing", before it is no doubt re-released next year by whichever record label's left."
"Honey, You Tore Me Apart Last Night" will be released on 14th February.
Taken from the album "Summer Viking" which can be heard in full further down this page or check out Gomez Addams
Bandcamp Page
for other older releases.
Taken from the four track 12" E.P. "Visitor" which as far as I can make out is available exclusively through the Social Music Record And Tape Club which actually is pretty good value. Subscription costs $95 and for that you can expect no less than ten records. Nine 12"s and one 7". Check it out at the link above.
Taken from the "Affectionate E.P." which appears to be a self released E.P available only as a download from their
Bandcamp page
.
8. Murder Mystery - Problems
Murder Mystery come from New York and this week release their six track "Problems E.P.". This is the tile track.
9. Sol Rezza - Paradox (Acustronica)
This is the first track on the album "Spit" recently issued on Acustronica and available for download in full further down this page. This particular track apparently comprises of "soundscapes of a lawn mower, a dog barking, sounds of lakes, piers and rivers in various locations. All of them modified through computer and virtual instruments with no MIDI connection". So now you know. That was about as clear as mud.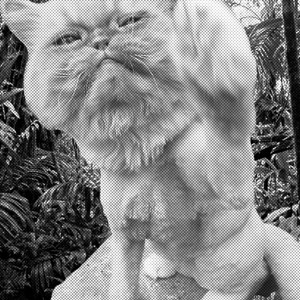 10. Coolrunnings - Spirit Of The High
A new track from the Knoxville four piece who last year released the superb "Full Moon" seven inch single on Too Pure records. This track is presumably from their debut album which will be released on 12th February on LebenStrasse Records.
I didn't realize Pop Will Eat Itself had returned but it seem they slipped in through the back door. This is their first album in almost sixteen years and it's always a bit of a concern when bands return after such a hiatus because you just hope they aren't trying to re-create their past. Fortunately P.W.E.I. do s
till seem to have new ideas and their current album "New Noise Designed By A Sadist" should give pleasure to the masses.
A lovely way to end a Fodder. This is taken from Drowner's self titles debut album which will be released on Saint Marie Records on 13th March.