1. Dananananaykroyd - Muscle Memory (Pizza College)
Excellent new single (I say new it's been around a few weeks) from the band with the most often mis-spelled name in history. It's the first single from the Glasgow band's new album "There Is A Way" which is also now available and currently sits in the rather huge pile of stuff to be listened to. In fact I might just stick it on tonight while Nix is workinmg and I'm trying not to drink my wine too fast.
Make sure you play this nice and loud. It's the 16 Bit remix of the new Amon Tobin single which really is quite awesome. You might remember a while back I was raving on about a 16 Bit single which involved chainsaws and plenty of them. Well this remix also uses similar sounds. It's been said before that there simply aren't enough power tools in music these days. "Surge" will be released on Ninja Tune on 4th July...talking of which...
3. Galaxy 500 - 4th Of July (Rough Trade)
Yeah I know, just couldn't resist it.
4. The Spiracles - Fireflies (

Saint Marie

)
This is the radio edit of the title track from the new E.P. which was released last week. The Spiracles is a new project by Luis Rodriguez who also plies his trade with Resplandor who produced a teriffic debut album last year (or possibly the year before).
5. Necro Deathmort - Devastating Vector (

Distraction Records

)
Another release to hit the world on 4th July is the second album by Necro Deathmort. It's called "Music Of Bleak Origin" although as you can tell from this track it's more nasty than that. There are only going to be 1000 CD's made available and they are well worth tracking down, apart from the excellent noise it makes the sleeve folds out into a massive piece of art so dark it would create a vortex if stuck on your wall.
6. The Vickers - They Need To Dance (Flake)
Taken fro the album "Fine For Now" which was released here in the UK back in February but will be released in Japan next month on Flake Records.
7. Trash Talk - Thorns (

Ghost Ramp

)
This is the Trash Talk contribution to a split seven inch single which they share with Wavves. As far as I know there are only 500 copies pressed and I'm not sure how you can get hold of one as the Ghost Ramp website hasn't been updated since last month.
8. Magnum - Grooveworks (Nightshifters)
Ecxellent new track from Daniel Enrique aka Magnum. The "Grooveworks E.P." also features remixes by Panteros666, Lucid, Randomer and Hostage.
9. Honey - Summertone (

Self Released

)
This is probably the most played track on my i-pod at the moment. It's the lead track on the Glasgow band's debut E.P. "Taste It And See" which can be downloaded in full further down this page.
Honey have a few dates coming up all of which unfortunately happen in Glasgow.
25th June - Glasgow, Maggie Mays
4th August - Glasgow, Bloc
19th August - Glasgow, The Classic Grand
10th September - Glasgow, The Bay
10. Scumbag Philosopher - God Is Dead So I Listen To Radiohead (

Words On Music

)
New single from the excellent Scumbag Philosopher who have recently been supporting The Fall on tour. "God Is Dead Si I Listen To Radiohead" is the first track to be lifted from their debut album "It Means Nothing So It Means Nothing".
2nd July - Manchester, Roadhouse
27th August - Peterborough, Blyth Power Ashed @ The Fen, Farcet Fen
11. Moon Wiring Club - Antiques Roadshow (

Blank Workshop

)
Taken from the new album "Somewhere A Fox Is Getting Married".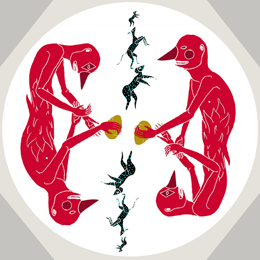 12. Be My Delay - You And Me And The Sunshine (

Boring Machines

)
This is a track I've been meaning to post for weeks. It's the opening track on a new release on Boring machines by Italian band Be My Delay. I know this track ends rather abruptly but that's just what it does.