1. The Vera Violets - Let The Silence End (

Self Released

)
Taken from the Tampa bands new album "In Between Fires" which you can download from their
Bandcamp Page
.
2. Clark - Basterville Grinch (

Warp

)
Only a couple of weeks ago I was moaning that there hadn't been any new Chris Clark records for far too long and in protest of this I was just about to go and firebomb Warp HQ in Sheffield. They were clearly petrified because this little gem has just made it's way into the world. It's a split single involving Clark on one side with his "Basterville Grinch" and on the other we are treated to the not inconsiderable talents of Bibio who presents us with a track entitled "Willenhall" which is also excellent. The thing which makes this record even better though is the Warp Records company sleeve which houses it. If you cast your mind back to the start of the nineties (old people only) some of the best records on the planet at the time came dressed in similar attire.
3. The Sundelles - Kiss The Coast (Working For The Family)
Taken from the album "Georgia Swan" which is available now.
4. Sad Accordions - Sacrificial Chumpsucker Diatribe (

Rainboot

)
This is the new single from Sad Accordians. It precedes the bands debut album "The Colors And The Kill" which will be released on Rainboot on 23rd May and on the strength of this track it going to be a real treat.
5. Lotus Fucker - The Snake That Eats Its Own Tail (

Solar Funeral/SPHC

)
This brief piece is taken from a split seven inch which Lotus Fucker share with the delightfully named Penis Geyser. Lotus Fucker contribute three tracks with this being the most lengthy while Penis Geyser contribute just the one which is a bit of a masterpiece and clocks in at over six minutes. Apparently there were only five hundred and fifty copies pressed and it has now sold out so the possibilities are there to treat you to the whole damn thing.
6. Oval - Kreak (

Thrill Jockey

)
This track is taken from another split release. This time it's Oval sharing with Liturgy who provide us with a pretty fine nineteen minute piece on this release.
7. The Wind-Up Birds - Stay Close To The Driver (

Self Released

)
This is one of the tracks I keep coming back to on the Leeds based bands debut album "Acting Thick For The Money" which you can download in full from their
Bandcamp Page
at whatever price you wish to pay.
8. Wild Nothing - Gruesome Castle (

Captured Tracks

)
This is the other side of the "Gruesome Flowers, A Tribute To The Wake" seven inch single which Wild Nothing share with Beach Fossils whose version of "Plastic Flowers" was included in last weeks Fodder.
9.The Wake - Plastic Flowers (Factory)
This is the original version of the track which was posted in last weeks Fodder. It's been a long time since I last played this record but to be honest it still sounds pretty good. Taken from the 1985 album "Here Comes Everybody".


10. Boogie Monster - Castle In The Clouds (

Needs More Ram

)
Boogie Monster describe themselves as a noise/rock duo from Vancouver and have kindly sent me their debut album "Zecimechi" which as far as I can make out was released this week, in Vancouver at least. This is the single version of a track on the album and if you like this you certainly won't be disappointed with everything else. The track I really wanted to play you is "Lost In Bollywood" which is quite frankly magnificent but the band would rather you heard this track so you'll just have to go and buy your own copy which you can do at Boogie Monster's
Bandcamp Page
for a mere five dollars.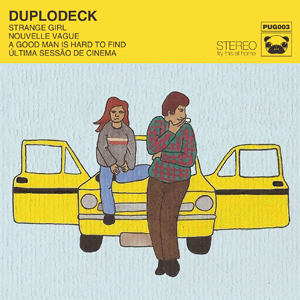 11. Duplodeck - Strange Girl (

Pug Records

)
Taken from the bands new E.P. which is available as a free download from the Pug Records website.
12. The Douglas Firs - A Military Farewell (

Armellodie

)
Taken from the Scottish bands new album "Happy As A Windless Flag" which will be released on 16th May on Armellodie Records. It will be available on CD, cassette and digital download which once agin demonstrates the resurgance of the lowly cassette which has been making a big comeback over the last year or so.