Download Zip File
1. Mamuthones - The Call (

Boring Machines

)
This album has been around since the March but I've only just got to hear it. It's a self titled release by Mamuthones and nothing less than a torrent of sonic bliss.
2. Smug Brothers - Company Man (Self Released)
This track comes from a delightful record called "Fortune Rumors" which contains no less than eighteen tracks most of which are relatively brief but certainly very good. For some reason it reminds me of the debut Teenage Fanclub album "A Catholic Education" which entertained us back in 1990 which is actually quite scary because some of you reading this rubbish may not have even been nearly ready to be conceived then. You can check out "Fortune Rumors" in full at the Dayton band's
Bandcamp Page
.
3. Should - Slumberland (

Words On Music

)
This is a record I've been waiting for for ages. You might remember I featured a couple of tracks from a sampler a couple of months ago and now I finally have the full album which I can only really describe as the most beautiful thing I've heard this year. The record is called "Like A Fire Without Sound" and is available now on the Words On Music label. It should be remembered that it's been thirteen years since Should last released a record and to be perfectly honest I can't remember what their nineteen ninety eight album "Feed Like Fishes" actually sounded like but I have a copy somewhere so I'll check it out while I'm watching the football this afternoon. You will certainly be hearing more from this record though.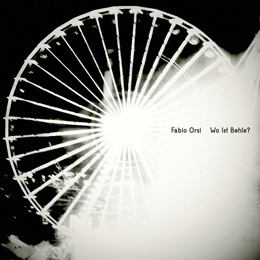 4. Fabio Orsi - Loipe 5 (

Boring Machines

)
Fabio Orsi is an Italian who now lives in Berlin. This is a track from his first release on Boring Machines "Wo Ist Behle" which is available now from the
Boring Machines shop
.
5. Havah - Until You Find Out (

Self Released

)
It's not everyday you come across a cover version of a Ned's Atomic Dustbin track but this is one. It's from an album which was released last October called "Adriatic Sea No Surf" which can be downloaded for everyone's favourite price from the Havah (not sure if they prefer their name in capital letters, I suspect they do)
Bandcamp Page
.
6. The Tinklers - Don't Put Your Finger In The Fan (Shimmy Disc)
Some wise advice from the Baltimore band's 1990 debut album "Casserole".
7. Bibio - Willenhall (

Warp

)
This is the other side of that rather fine split twelve inch which features Clark on the reverse. The record was released on 16th April in celebration of Record Store day and although I promised myself not to mention the sleeve again, it is bloody gorgeous.
8. Los Campesinos - Light Leaves, Light Sees (Heat Rash)
This is a track from the seven inch single you will receive if you subscribe to the Los Campesinos quarterly zine "Heat Rash". The first issue has just been released and as well as a superb publication you also become the custodian of a seven inch single which featured two brand new, never heard before tracks and this one I think is particularly good. You can get more details on how to become a subscriber by going to the bands
Heat Rash page
.
9. Bleed Stone - WAV 3 (

Self Released

)
This track comes from a seven track E.P. which has been made available through the bands
Bandcamp Page
. I must admit I'm sorely tempted to post the whole thing here because it really is a record I think you should listen to at least once in your life, or perhaps this coffee's having a bit of a strange effect on me today.
10. Penis Geyser - Penis Geyser Side (Solar Funeral/SPHC)
This is the Penis Geyser contribution to the split seven inch which they share with Lotus Fucker. I was told it had sold out but it appears to still be in stock
HERE
. You better get a move on though!
11. Djedjotronik - Bugle (Original Mix) (

BNR Trax

)
Boyz Noize label "Trax" is rapidly becoming my favourite record label of the year. From nowhere they have come, storming over the hills with sack loads of sounds to make your ears proud.
12. Ganglians - Jungle (

Souterrain Transmissions

)
This is a track from the new Ganglians album "Still Living" which will be released on 23rd August on Souterrain Transmissions in Europe and Lefse Records in the USA.