This is it then, the Burning World end of year thingy. It's the first year I've done this but what a great year it's been with more new music launched into the world than ever before, and they say the internet's killing music!
This is the first of two parts, the second part will be available next week when you've all had your fill of turkey and annoying relatives. The tracks aren't in any particular order other than this week deals with the first half of the year and Part 2 will include stuff from the last six months.
Enjoy.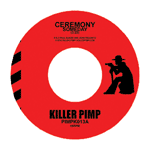 This was a 7" single released back In January. Only 500 copies were pressed.
2. Dorias Barraca - The Only Touch (

Club AC30

)
Taken from the "Handsome Melting Point E.P." which was also released back in January
3. Chariots Of Tuna - A New Beginning (Tweefort)
This is a track from a single released earlier in the year by Brooklyn based Chariots Of Tuna called "I'm So Good At Shining". Things have changed a bit for the band since this release. They have changed their name to Onward Chariots and signed to Elefant Records with whom they have released a single called "Save Me Maryann" which I have not yet heard.
4. The Electric Pop Group - Out Of Sight (

Matinee

)
This is a track from what is definitely one of the best albums of the year. It's called "Seconds out" and is the second album by Swedish band The Electric Pop Group. If you missed this earlier in the year you should bash your head against a doorframe and visit the Matinee records site immediately.
5. Sambassadeur - I Can Try (

Labrador

)
Still in Sweden this is one of the many highlights from Sambassadeur's second album "European".
6. The Fall - Mexico Wax Solvent (

Domino

)
Probably my favourite track on this years Fall album. I'm told the next album is in progress but it'll have to go some to beat "Your Future, Our Clutter".
7. Fort Fairfield - Sound Of Birds (

Acustronica

)
"Dead Sea Scrolls" will go down as probably the most beautiful album of the year and this track still appears on my ipod from time to time. I will be posting some new tracks from Fort Fairfield on Burning World next week.
8. Sennen - With You (

Hungry Audio

)
Taken from the album "Age Of Denial".
9. The School - Let It Slip (

Elefant

)
Taken from the Cardiff bands debut album "Loveless Unbeliever". I'm looking forward to a follow-up in 2011.
10. The Wave Pictures - I Shall Be A Ditchdigger (

Little Teddy

)
Taken from the album "Susan Rode The Cylone".
11. Fuck Buttons - Olympians (Spaceman Vs The Olympians Remix) (ATP)
Bit of a quiet year for Fuck Buttons really but they did score with his effort back in April. This is the Jason Spaceman remix of Olympians which originally appeared on last years excellent "Tarot Sport" album. Hopefully they will be back in the hot seat in 2011.
12. Crocodiles - Sleep Forever (

Fat Possum

)
This is definitely one of my favourite singles of the year. Released in June it was also the first material heard from the Californian bands new album of the same name which was released in September. Another great thing about this record is the cover of Dee Lite's "Groove Is In The Heart" on the b-side.
13. Women - Heat Distraction (

Jagjaguwar

)
This is a track from the Canadian bands second album "Public Strain" which as well as been generally brilliant featured one of the best sleeves of 2010.
14. Sky Larkin - Kaleide (

Wichita

)
This is the title track from the Leeds bands second album which was one of the sounds of the summer. I've managed to miss Sky Larkin twice this year when they have visited York.
15. Allo Darlin' - Kiss Your Lips (Fortuna Pop)
Another band I missed on my home turf were Sheffield's Allo Darlin' who provided us with an impressive debut earlier in the year.
Finally for this week a track from another northern band in the shape of Sheffield's Allo Darlin'.