1. Anna Bradley - Anna Bradley
Currently one of my favourite bands. Anna Bradley come from New York, are mates with Sloth Bear and have made a brilliant record called "Pavo". This is the first track on the album and the one I just can't stop coming back to.
2. Rustie - Dragonfly (

Warp

)
This is a track from the Glasgow artists debut release on the mighty Warp Records of Sheffield. It's a five track E.P. called "Sunburst and should be available now.
3. Bad Banana - Pretty Like A Girl (

Muxtape

)
Taken from the excellent album "Crushfield" which I gather is actually only a demo. Sounds good to me.
This is another track from the Polish outfit's superb "Winter Ambient Works" which I think I'm addicted to. No household should be without a copy of this album so do yourself a favour and have a look at the Wounds bandcamp page where you will find yourself confronted with the option of either a free download or to become one of only fifty people in the whole wide world who possess a hand numbered limited edition CD-R which comes in a graphite cardboard cover printed on both sides and a semi transparent obi, wrapped in a P.V.C. envelope. I really hope that makes some kid of sense to you because it's about as clear as cowshit to me.
Taken from the Bronx bands third album "Liasons" which will be released soon through the Soft Abuse label. There will be a vinyl run of 500 copies which will each be accompanied with a free download to prevent you having to actually play your record.
6. Thread Pulls - These New Thoughts (Osaka)
Taken from the Irish bands debut album "New Thoughts" which was released last week on Osaka. I just love this guy's vocals.
Any record which has samples of steam trains in it is always going to end up on this site. The album from which this track is taken appears to be called "Album" and is available for whatever price you consider appropriate from the Portland artists
bandcamp page.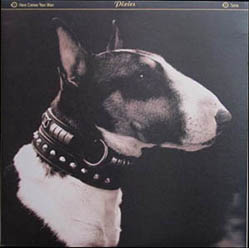 8. Pixies - Wave Of Mutilation (UK Surf) (

4AD

)
No real reason for including this other than I was listening to some old records the other day and this one came up. I had forgotten just how good The Pixies were.
Taken from the Melbourne bands third album "Little Joy" which like the previous two is produced by the hands of Mr Steve Albini and quite frankly I could have included any of the tracks on this record and it would have been brill. You will certainly be hearing more from his record in future Fodders.
10. Wighead - Never Go Home (

K-Sur

)
Taken from the rather good "William & Edward Frontage" 7" which I think you can order from the bands myspace page
HERE
.