1. The Century - Heartbreak (

Keepreal

Creative Label)

This is a track from the latest

Keepreal

compilation "

Keepreal

vol 2" which can be downloaded in full

here

.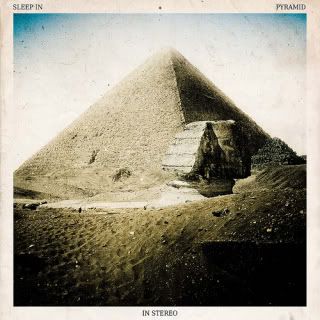 2. Sleep In - Skin (Enemies List)
Taken from the album "Pyramid" which is the work of an Australian bloke called Hamish Duncan who says,
"This is my new album, and it's called Pyramid. Recorded in a bedroom with a microphone, two guitars and

Ableton

Live between June and August 2009. Vocals are present, as are samples, and it will probably remind you of artists such as Atlas Sound. It is probably the best work I can do at this point in time, and I'm pretty proud of it, so thank you for checking it out. I hope you like it."
3. Chariots Of Tuna - A New Beginning (
Tweefort
)
Chariots Of Tuna are a quartet from New York. This track is taken from the bands current single "I'm So Good At Shining" the other tracks from which can be downloaded for free from the
Tweefort

Records website.
4.

Apteka

- Cicada Song (Self Released)
This track is taken from the current
Apteka
tour E.P. which is quite simply brilliant and it's well worth going to see them just to buy one of these. Apparently there is a new 10" E.P. in the pipeline and the bands debut album to look forward to later in the year.
Apteka
will be appearing at
SXSW
but then again you could say that about anyone really.
5. The Electric Pop Group - Out Of Sight (

Matinee

)
Another track from the best album of the year thus far. "Seconds" is easily as good as last years classic debut from The Pains Of Being Pure At Heart but you can bet your fingernails that it won't get half as much coverage which is a great shame. I really would like to see this lot come over to our shores for a few dates this year.
6. A Sunny Day In Glasgow -

Nitetime

Rainbows (

Mis

Ojos

Discos)
A Sunny Day In Glasgow return on 2
nd
March with a new E.P. "
Nitetime
Rainbows" the title track on which is remixed from last years impressive "Ashes
Grammer
" album. It will be released on two formats. You could purchase the digital download if you were so inclined but the sensible money will be spent on the clear vinyl 12" which will be limited to 1000 copies. You get four tracks on the a-side (
Nitetime
Rainbows, Daytime Rainbows, So Bloody So Tight, Piano Lessons) and on the b-side there are three different mixes of the title track. And all for $12 from the
Mis

Ojos

Discos shop.
7. Errors - Bridge Or Cloud (The Twilight Sad Remix) (MP3)
8. Harlem - Friendly Ghost (

Matador

)
Another track from the new album "Hippies" which will be released through Matador on 6
th
April.
9. Hot Club De Paris - Extra Time Then Sudden Death (May 68 Remix)
10.

Eluvium

- Cease To Know (

Temporary Residence

)
This track is the last track on the current
Eluvium
album which will be released through Temporary Residence on 23rd February.