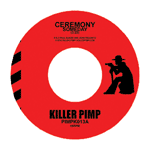 1. Ceremony - Someday (

Killer Pimp

)
This track is taken from the new Ceremony 7" which is limited to just 500 copies and will be released through Killer Pimp on 26th January. Ceremony will soon unleash their new album "Rocket Fire" on the world. My eyes have shrivelled up with exitement.
2. Sunburned Hand Of The Man - Lost At Sea (
Ecstatic Peace
)
This track comes from what is probably the most played record in my house at the moment. It's the second album from Sunburned Hand Of The Man who have anywhere from three to twelve band members and come from somewhere over the Atlantic. As you have probably realised, I know absolutely bugger all about them except this is their second album it's called "A LP" and is better than a fish finger sandwich! Now that's saying something.
3. Koolaid Electric Company - Show Me The Sun (

Self Released

)
Taken from the "Feel Our Noise And Adore Us" EP
4. Four Tet - Circling (

Domino

)
I never have been the biggest fan of Four Tet in the past but their recent stuff really has been top of the league. This track is taken from the new album "Their Is Love In You".
5. Blonde Louis - 100 Miles (

Promo

)
This is one of the tracks on a two track sampler for their new "100 Miles EP". I can't tell you anything about the band at all. Even their Myspace is a bit vague. They make a decent noise though and at the end of the day what more can you ask for.
4th February - Norwich, B2
6th February - Letchworth Garden City, Plinston Hall
16th February - Nottingham, Bodega
17th February - Southampton, Unit
18th February - London, Borderline
20th February - Brighton, Audio
21st February - Birmingham, Academy 3
6. Women's Basketball - Hold Me, Fuckers (

Tweefort

)
Women's Basketball isn't what you'd call a "real" band. It consists solely of a bloke called Tyler Trudeau who plays everything. The album "An Octopus, But Like, An Octopus With Massive Wings And Junk" is released this month through Tweefort and is guaranteed to put a smile on even the most miserable of creatures.
7. Hadouken! - Evil (

Surface Noise

)
Hadouken! finally return with the follow up to their 2008 debut "Music For An Accelerated Generation" and to be fair if you liked that record then you'll probably like this one as well. No great leap forward, pretty much more of the same. The album is called "Music For The Masses" and is released through the bands own Surface Noise label (which is actually an imprint of EMI bur I won't mention that!) The band will be making an in-store appearance at a record store near you soon before they embark on a "proper" tour, details of which you can find on their
Myspace
page.
8. The Number Eight - There Are No Knobs That Should Not Be All The Way Up (

Self Released

)
Taken from the Michigan band's "Heavy EP".
9. Illness - Bane Face (Self Released)
Illness are a new band from Brighton who have just recorded their first EP which will be released sometime in the spring and on the evidence of this track it will be a record which needs to be owned.
10. The Electric Pop Group - The Way It Used To Do (

Matinee

)
If your after a great indiepop album then this is the record for you. The Electric Pop Group have just released their debut album for Matinee and to call it a treat is understating the case. Ten sparkling pop songs which are guaranteed to cheer up even the most miserable buggers in this world. The album is called "Seconds" and is technically the bands second album. The first was a self released CD which the band issued in 2006.